HOMEPAGE
Site Links:
Descent of Man
In this lecture, beginners can familiarize themselves with basic information and terms used to describe the evolution of humanity beginning with the origin of primates through the comings and goings of Genus Homo.

-


• Space • Brain • Human Evolution • Biology • Geology • Physics • Universe •

Click above fields for latest in the news

November 2006

Scientists find first known human ritual
Posted: Thursday, November 30, 2006
World's Oldest Ritual Discovered -- Worshipped The Python 70,000 Years Ago

Source: The Research Council of Norway
Date: November 30, 2006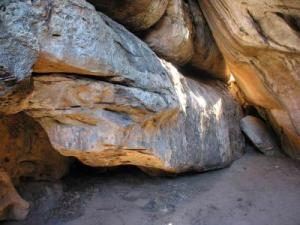 Python stone. (Photo Credit: Sheila Coulson)

A startling archaeological discovery this summer changes our understanding of human history. While, up until now, scholars have largely held that man's first rituals were carried out over 40, 000 years ago in Europe, it now appears that they were wrong about both the time and place.

Associate Professor Sheila Coulson, from the University of Oslo, can now show that modern humans, Homo sapiens, have performed advanced rituals in Africa for 70,000 years. She has, in other words, discovered mankind's oldest known ritual.

The archaeologist made the surprising discovery while she was studying the origin of the Sanpeople. A group of the San live in the sparsely inhabited area of north-western Botswana known as Ngamiland.

Coulson made the discovery while searching for artifacts from the Middle Stone Age in the only hills present for hundreds of kilometers in any direction. This group of small peaks within the Kalahari Desert is known as the Tsodilo Hills and is famous for having the largest concentration of rock paintings in the world.

The Tsodilo Hills are still a sacred place for the San, who call them the "Mountains of the Gods" and the "Rock that Whispers".

The python is one of the San's most important animals. According to their creation myth, mankind descended from the python and the ancient, arid streambeds around the hills are said to have been created by the python as it circled the hills in its ceaseless search for water.

Sheila Coulson's find shows that people from the area had a specific ritual location associated with the python. The ritual was held in a little cave on the northern side of the Tsodilo Hills. The cave itself is so secluded and access to it is so difficult that it was not even discovered by archaeologists until the 1990s.

When Coulson entered the cave this summer with her three master's students, it struck them that the mysterious rock resembled the head of a huge python. On the six meter long by two meter tall rock, they found three-to-four hundred indentations that could only have been man-made.

"You could see the mouth and eyes of the snake. It looked like a real python. The play of sunlight over the indentations gave them the appearance of snake skin. At night, the firelight gave one the feeling that the snake was actually moving".

They found no evidence that work had recently been done on the rock. In fact, much of the rock's surface was extensively eroded.

When they saw the many indentations in the rock, the archaeologists wondered about more than when the work had been done. They also began thinking about what the cave had been used for and how long people had been going there. With these questions in mind, they decided to dig a test pit directly in front of the python stone.

At the bottom of the pit, they found many stones that had been used to make the indentations. Together with these tools, some of which were more than 70,000 years old, they found a piece of the wall that had fallen off during the work.

In the course of their excavation, they found more than 13,000 artifacts. All of the objects were spearheads and articles that could be connected with ritual use, as well as tools used in carving the stone. They found nothing else.

As if that were not enough, the stones that the spearheads were made from are not from the Tsodilo region but must have been brought from hundreds of kilometers away.

The spearheads are better crafted and more colourful than other spearheads from the same time and area. Surprisingly enough, it was only the red spearheads that had been burned.

"Stone age people took these colourful spearheads, brought them to the cave, and finished carving them there. Only the red spearheads were burned. It was a ritual destruction of artifacts. There was no sign of normal habitation. No ordinary tools were found at the site. Our find means that humans were more organised and had the capacity for abstract thinking at a much earlier point in history than we have previously assumed. All of the indications suggest that Tsodilo has been known to mankind for almost 100,000 years as a very special place in the pre-historic landscape." says Sheila Coulson.

Sheila Coulson also noticed a secret chamber behind the python stone. Some areas of the entrance to this small chamber were worn smooth, indicating that many people had passed through it over the years.

"The shaman, who is still a very important person in San culture, could have kept himself hidden in that secret chamber. He would have had a good view of the inside of the cave while remaining hidden himself. When he spoke from his hiding place, it could have seemed as if the voice came from the snake itself. The shaman would have been able to control everything. It was perfect." The shaman could also have "disappeared" from the chamber by crawling out onto the hillside through a small shaft.

While large cave and wall paintings are numerous throughout the Tsodilo Hills, there are only two small paintings in this cave: an elephant and a giraffe. These images were rendered, surprisingly, exactly where water runs down the wall.

Sheila Coulson thinks that an explanation for this might come from San mythology.

In one San story, the python falls into a body of water and cannot get out by itself. The python is pulled from the water by a giraffe. The elephant, with its long trunk, is often used as a metaphor for the python.

"In the cave, we find only the San people's three most important animals: the python, the elephant, and the giraffe. That is unusual. This would appear to be a very special place. They did not burn the spearheads by chance. They brought them from hundreds of kilometers away and intentionally burned them. So many pieces of the puzzle fit together here. It has to represent a ritual." concludes Sheila Coulson.

It was a major archaeological find five years ago that made it possible for Sheila Coulson to date the finds in this little cave in Botswana. Up until the turn of the century, archaeologists believed that human civilisation developed in Europe after our ancestors migrated from Africa. This theory was crushed by Archaeologist Christopher Henshilwood when he published his find of traces from a Middle Stone Age dwelling in the Blombos Cave in Southern Cape, South Africa.

http://www.eurekalert.org/pub_releases/2006-11/trco-wor112906.php



Send page by E-Mail

New Study Finds that Single Impact Killed Dinosaurs
Posted: Tuesday, November 28, 2006
The dinosaurs, along with the majority of all other animal species on Earth, went extinct approximately 65 million years ago. Some scientists have said that the impact of a large meteorite in the Yucatan Peninsula, in what is today Mexico, caused the mass extinction, while others argue that there must have been additional meteorite impacts or other stresses around the same time.
Full Article : physorg.com



Send page by E-Mail New Theory for Mass Extinctions
Posted: Tuesday, November 28, 2006
Source: Geological Society of America

A new theory on just what causes Earth's worst mass extinctions may help settle the endless scientific dust-up on the matter. Whether you favor meteor impacts, volcanic eruptions, cosmic rays, epidemics, or some other cause for the worst mass extinction events in Earth's history, no single cause has ever satisfied all scientists all the time for any extinction event. That may be because big extinctions aren't simple events.

The new Press/Pulse theory gets around the controversy by rejecting the all-or-nothing approach to mass extinction, calling instead on a combination of deadly sudden catastrophes — "pulses" — with longer, steadier pressures on species - "presses."

"What we wanted to do is move away from the idiosyncratic approach to extinction mechanisms and look for what these intervals had in common. If you have A and B you will get a mass extinction," said Ian West, a 2006 graduate of Hobart and William Smith Colleges in Geneva, NY.

West and Hobart and William Colleges paleontology professor Nan Crystal Arens are scheduled to present their work on the Press/Pulse theory on Wednesday, 25 October, at the Annual Meeting of the Geological Society of America in Philadelphia.

Using databases that chart genera of marine organisms and their extinctions through the fossil record, West and Arens divided the last 488 million years of geologic history into four groups: times of suspected impact events (Pulses), times of massive volcanic eruptions (Presses), times when neither Presses nor Pulses occurred, and times when Press and Pulse coincided. They compared average extinction rates in geologic stages in each of these groups.

During stages when only impacts occurred, an average of 7.3% of genera became extinct every million years; 8.3% of genera became extinct in stages characterized by flood volcanism alone. When neither Press nor Pulse were active, 8.2% of genera became extinct. These averages are statistically indistinguishable. "Statistically speaking, extinction rates are not significantly higher at times of impact or volcanism vs. no geologic events," West said.

In contrast, when Press and Pulse events coincided, an average of 12.8% of genera became extinct per million years, statistically higher than the rate observed during other geologic stages.

"The goal of our work was to come up with a unifying theory of mass extinctions. We also wanted to make it applicable to what's going on now," said West, referring to rapid losses of biodiversity worldwide now underway as a result of climate change and destruction of habitats by human activities.

"Is this model, which seems to work for the big five mass extinction events in Earth's history, applicable today?" West asked.

At first glance the answer would appear to be 'no.' There is, after all, no massive flood basalt eruption underway today, nor have there been any recent meteor impacts. On the other hand, some very similar effects are being seen on Earth.

"We came up with the idea that humans themselves act as both Press and a Pulse," said West. "Humans began manipulating the environment - the Press - from the advent of agriculture. However, that alone did not trigger the current mass extinction. That seems to have been triggered by the pulse of industrialization and the demands for energy and resources that came with it."

The bottom line, says West is that it's extremely hard to pinpoint simple causes for Earth's great periods of extinction.

"We sought to rephrase the question," said Arens. "In the modern world, species are commonly endangered by some stress before the final death blow falls. It seems likely that biological systems in the past worked in similar ways. By demonstrating that the coincidence of long-term stress and catastrophic disturbance is needed to produce big extinctions, we hope to break down some of the polarization characteristic of many discussions of extinction. We hope to send people back to the data with a more inclusive hypothesis to test."

http://www.geosociety.org/news/pr/06-52.htm



Send page by E-Mail Genetic breakthrough that reveals the differences between humans
Posted: Thursday, November 23, 2006
Scientists hail genetic discovery that will change human understanding

By Steve Connor, Science Editor
Published: 23 November 2006

Scientists have discovered a dramatic variation in the genetic make-up of humans that could lead to a fundamental reappraisal of what causes incurable diseases and could provide a greater understanding of mankind.

The discovery has astonished scientists studying the human genome - the genetic recipe of man. Until now it was believed the variation between people was due largely to differences in the sequences of the individual " letters" of the genome.

It now appears much of the variation is explained instead by people having multiple copies of some key genes that make up the human genome.

Until now it was assumed that the human genome, or "book of life", is largely the same for everyone, save for a few spelling differences in some of the words. Instead, the findings suggest that the book contains entire sentences, paragraphs or even whole pages that are repeated any number of times.

The findings mean that instead of humanity being 99.9 per cent identical, as previously believed, we are at least 10 times more different between one another than once thought - which could explain why some people are prone to serious diseases.
Full Article : independent.co.uk



Send page by E-Mail
Previous Page | News Home | Homepage
RaceandHistory.com • Trinicenter.com • AmonHotep.net • Pantrinbago.com • TriniView.com
Best viewed in *Internet Explorer* --- Netscape users should Upgrade

Education 2001 - HowComYouCom.com
Designed and maintained by: Renee, Hendricks, Vashti, Meri & Amon. S.E.L.F.