HOMEPAGE
Descent of Man
In this lecture, beginners can familiarize themselves with basic information and terms used to describe the evolution of humanity beginning with the origin of primates through the comings and goings of Genus Homo.

Main Human Evolution Links
Some of the best links for learning about how we descended. Uses these links and post your questions and views about areas not covered.

BUY BOOK HERE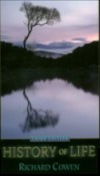 -





Human Evolution | Physics | Geology | Biology | Space | Brain




News Headlines


Found: The Fastest-Approaching Object in the Universe
Friday, March 7, 2014
Earliest footprints outside Africa discovered in Norfolk
Friday, February 7, 2014
The Dragon Awakens: Colossal Explosion from Supermassive Black Hole at Centre of Galaxy Revealed
Thursday, September 26, 2013
Astronomers Discover Densest Galaxy Ever
Thursday, September 26, 2013
Human Y Chromosome Much Older Than Previously Thought
Friday, March 8, 2013
Skull shows early man's epic journey to Asia
Tuesday, August 21, 2012
All Non-Africans Part Neanderthal, Genetics Confirm
Wednesday, July 20, 2011
Human DNA 97% Same as Orangutans
Thursday, January 27, 2011
Lost Civilization Under Persian Gulf?
Friday, December 10, 2010
Modern Humans Mature More Slowly Than Neanderthals Did, Analysis of Teeth Suggests
Monday, November 15, 2010
Water on the Moon: a Billion Gallons
Thursday, October 21, 2010
Rich exoplanet system discovered
Tuesday, August 24, 2010
First humans arrived in Britain 250,000 years earlier than thought
Thursday, July 8, 2010
Starry-Eyed Hubble Celebrates 20 Years of Awe and Discovery
Thursday, April 22, 2010
New Pre-Human Species Offers Evolutionary Clues
Thursday, April 8, 2010
Missing link between man and apes found
Saturday, April 3, 2010
DNA identifies new ancient human dubbed 'X-woman'
Wednesday, March 24, 2010
How the Moon rules your life
Monday, March 1, 2010
India's lunar mission finds evidence of water on the Moon
Wednesday, September 23, 2009
A skull that rewrites the history of man
Wednesday, September 9, 2009
Comet Holds Building Block for Life
Monday, August 17, 2009
Original source of malaria reported
Wednesday, August 5, 2009
Scientists Unveil Missing Link In Evolution
Tuesday, May 19, 2009
African tribe populated rest of the world
Saturday, May 9, 2009
Single-Celled Giant Upends Early Evolution
Friday, November 21, 2008
A 'Second Earth' has been found 20 light years away
Friday, October 17, 2008
Study shows 28,000-year-old Europeans' DNA was like ours
Thursday, July 17, 2008
Humans lived in tiny, separate bands for 100,000 years
Friday, April 25, 2008
Secrets Of Massive Black Hole Unveiled
Friday, April 25, 2008
Study says near extinction threatened people
Friday, April 25, 2008




Human Evolution | Physics | Geology | Biology | Space | Brain




View last 7 days / Advance Search / Monthly News Archives

Homepage



---
RaceandHistory.com » Trinicenter.com » Guestbook » Pantrinbago.com » TriniView.com
Best viewed in *Internet Explorer* --- Netscape users should Upgrade

Education 2001 - HowComYouCom.com<